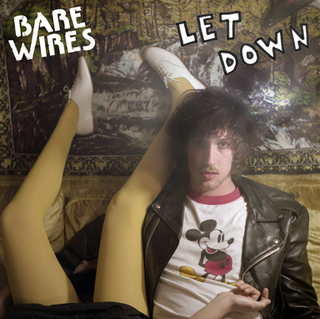 Back on the night of Tuesday, June 30, 2009, I was checking out a bunch of singles that had recently been added to the WFMU New Bin. As soon as dropped the tonearm onto "Let Down" by the Bare Wires I was hooked by the arresting feedback-laden guitar combined with the breathy, almost sweet-sounding vocals. Encouraged, I flipped the record over and was rewarded by "Looking For Some Action," which sounded like it almost could have been an old Real Kids outtake.
I played both sides of the single that night, and then played it again (just one side) the following week. And the week after that. And the week after that. I played that record for 12 weeks in a row, and the only thing that stopped me from playing it on that 13th week was that I'd gotten myself a copy of their LP, Artificial Clouds.
About halfway through those twelve weeks of repeated spins I contacted Matthew Melton, the Bare Wires' singer/guitar player/songwriter, with hopes that the band would be heading out east from their base in Oakland, CA. Sadly no such tour was forthcoming at the time, but the cliche "good things come to those who wait" is a cliche for a reason. In March they set off on an extensive tour across the country  and back, and we're very happy that they came by to record a set at WFMU on what would have otherwise been a free Saturday afternoon in New York City.
Ironically, for all the talk of that single, by the time the band made it out this way they'd gone through some lineup changes and written a bunch of new songs and neither song from the single is currently in their repertoire. That's certainly not to say that their set was a disappointment - it absolutely was not. Melton is continuing to write short catchy garage-punk songs -- enough for another LP, which will be coming out in a few months on John Dwyer's (Oh-Sees, Coachwhips, etc.) label Castle Face.

While we wait for that album to come out, give a listen to this fantastic live set, which includes songs from the new LP as well as some from Artificial Clouds.

Thanks to Bare Wires for coming down, and to Diane Kamikaze for working her usual magic behind the board.

Bare Wires are on tour now, tourdates here