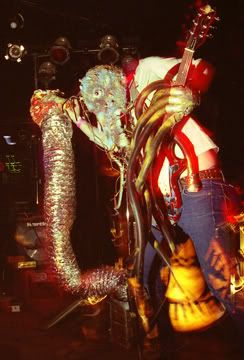 With Human Eye, Timmy "Vulgar" Lampinen takes the raw punk spirit he brought to his earlier Detroit bands (Clone Defects & Epileptix) and steps into new dimensions that reflect reality through science fiction. So one of the songs they performed live on Talk's Cheap this week is "about goin' to the party store in Hamtramck," while another deals with impregnating the Martian queen.
With deft wah-control, Timmy's guitar transforms into a laser cannon, and he's backed by a team of Detroit all-stars: alien pianist Johnny Lzr also fronts 70s glam-rockers Conspiracy of Owls, whose debut LP on Burger Records is one of Evan "Funk" Davies' top albums of the year (which is an extremely high recommendation if you dig 70s rock, punk and power pop!). Drummer Billy "Hurricane William" Hafer also plays in ET Habit, and The Big Bang, an "adult percussion" group. Bassist Brad Hales runs People's Records, a second-hand shop in Detroit specializing in northern soul (so he sees a lot of Mr Finewine, host of WFMU's Downtown Soulville).
Human Eye's debut full-length was released by In The Red in 2005 and their latest, Fragments of the Universe Nurse, came out on Hook or Crook. They stopped by while in town recording a new 7'' with Ivan Julian, and jetsetting around playing free shows courtesy of Scion...which is funny, cuz I was just talking the other day about how brands are like the new record labels.
Meanwhile Timmy's Organism -- originally conceived as Timmy Vulgar's solo 4track recording project -- has taken off with a nice set of 7-inches and the brand new Rise of the Green Gorilla LP (on Brooklyn's Sacred Bones label). The organism has blossomed into a three-piece, and plays Brooklyn on Saturday November 20th for "The Return of Detroit" with Tyvek, Terrible Twos, The Mahonies and guest DJ Mick Collins (Gories/Dirtbombs). [details]
Continue reading "Mutant Punk from Detroit's Human Eye (mp3s)" »