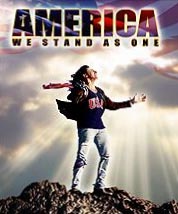 It's America's rock anthem (music video) for the new century of war without end.
And who better to channel it for us* than a Jersey native who can claim to be "also featured on the Star Trek Trading Cards, which in the trading card world is a high honor."
The Quicktime music video is here (for streaming or download).
Here's the main site.
(Yes, Station Manager Ken included this in a list of wonderful links a few days ago, but, damnit, this song is just too important for our country to not give a spotlight to!)