This year I was given the honor of lining up the films for the AV Lounge at the WFMU Record Fair, and, well, here it is. I'm excited by the variety on hand - everything from documentaries on some amazing musicians to underground film classics to guests from the world of cable access. And - oh yeah - three brand new films that you'll be seeing first if you come to the fair!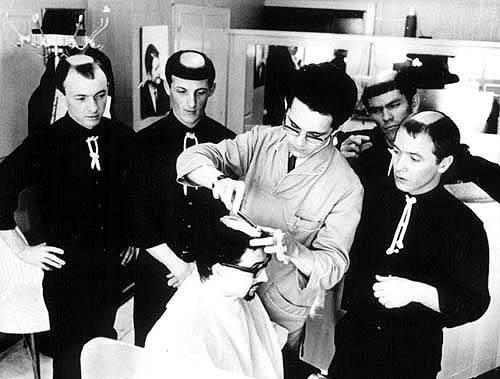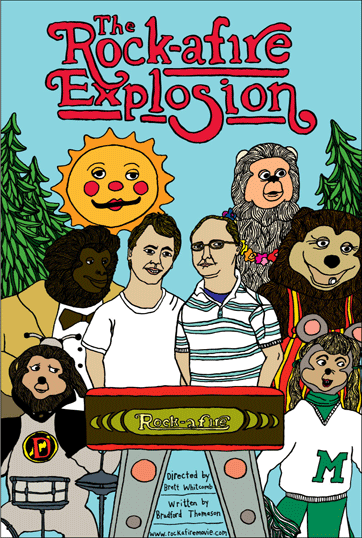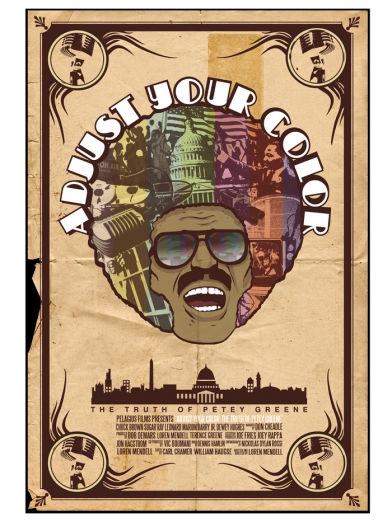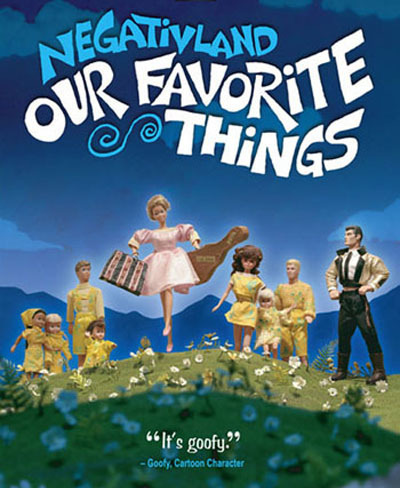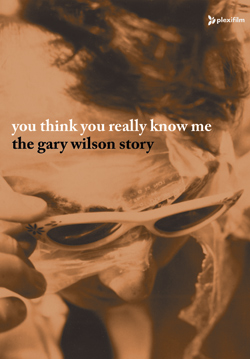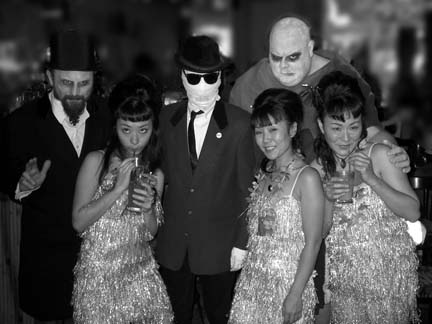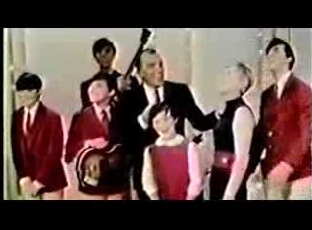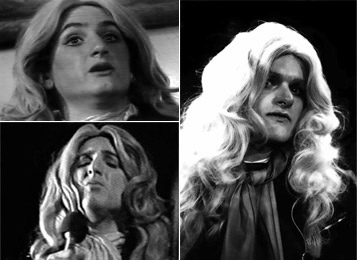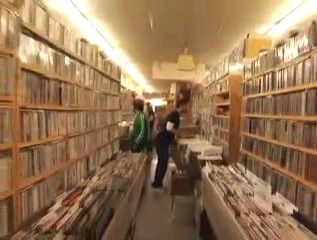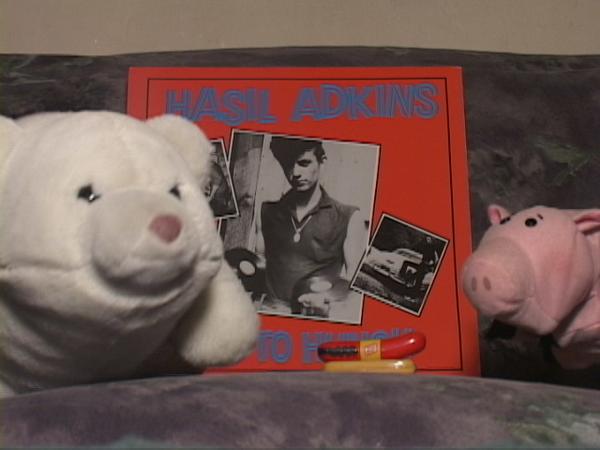 Here is the line-up. More details on each film, as well as video clips, after the jump. As always, these films are FREE for everyone who comes to the Record Fair, but seating in the AV Room is limited. Come join us!
Saturday, October 25

11:00am
The Bedazzled Video Hour and a Half 2008: Bubblegum Music A-Z
1:30pm
Trent Harris' The Beaver Trilogy
3:00pm
The Best of NY Cable Access: Wild Record Collection and Ghoul A Go-Go
4:30pm
Sneak Preview!
The Monks: The Transatlantic Feedback
(opens October 31st at Anthology Film Archive - spread the word)
Sunday, October 26
11:00am
Negativland: Our Favorite Things
12:30pm
Premiere!
I Need That Record
Director Brendan Toller in person!
2:15pm
Adjust Your Color: The Truth of Petey Greene
Producer (and Petey's nephew) Terrence Greene in person!
3:30pm
Premiere!
Rock-AFire Explosion
with short videos by Uncle Monsterface
5:00pm
You Think You Really Know Me: The Gary Wilson Story
. . .
And now for the details....
THE 2008 BEDAZZLED VIDEO HOUR AND A HALF:
BUBBLEGUM MUSIC A-Z
An alphabetical compendium of the best and the rest of this much maligned Bubblegome genre courtesey of our friends at the Bedazzled blog. From "ABC" and "1-2-3- Red Light" straight through to "Yummy Yummy Yummy" and "The Wombles". Including all of the core Kasenetz/Katz productions (1910 Fruitgum Company, Ohio Express, the Music Explosion), Bubblegum auteurs Boyce and Hart, the TV Show groups (The Partridge Family (and their real life counterparts, the Cowsills) and The Monkees), and Cartoons (the Archies and the Osmonds), as well as some proto-bubblegum rock from Tommy James, Tommy Roe, and the Troggs. Where else this year are you going to see a gospel choir singing "Sugar, Sugar"?
Here's a taste of what's in store:
---
Trent Harris' THE BEAVER TRILOGY
The legendary underground movie trilogy is together again. First, check out the documentary about Groovin' Gary, Utah's amateur Olivia Newton John impersonator. Gary's story was so moving, that the director was compelled to bring us the same character twice more: once played by Sean Penn, another by Crispin Glover.
This early collection from Rubin and Ed director Trent Harris is a rarely seen oddball classic, and was described at the 2000 New York Video Festival as "so perfect, so odd, and so affecting that you feel like you're in the presence of a minor miracle or some strange form of beatitude."
The same can be said about Groovin' Gary's other great impersonation: Manilow.
---
Best of NY Cable Access
WILD RECORD COLLECTON and GHOUL A GO-GO
Wild Record Collection features your host "Snuffles" and stuffed pals reviewing their favorite albums. Ghoul A Go-Go is the monster-rock-n-roll-dance-party show that you only wish you grew up with - and who will also be at the Record Fair hosting their own dance party during Debbie D's wedding. Join them both for one hour of cable access madness - and stay to meet the creators themselves.
Witness a bit of Wild Record Collection in Debbie's recent post, and here is a clip of Hasil Adkins visiting Ghoul A Go-Go.
---
THE MONKS: THE TRANSATLANTIC FEEDBACK
Sneak Preview!
Heavy on feedback, nihilism and electric banjo, The Monks had strange haircuts, dressed in black, mocked the military and rocked harder than any of their mid-sixties counterparts while managing to basically invent industrial, punk and techno music. The genre-overlapping documentary film not only illustrates the pop music phenomenon in its political, social and cultural historic contexts.
Long time favorites of WFMU, the Monks are about to rock out on your movie screen starting October 31st at Anthology Film Archives. But you can catch a special sneak preview only at the Record Fair.
---
NEGATIVLAND: OUR FAVORITE THINGS
Video shorts from our favorite copyright baiting collage musicians. From "Christianity is Stupid" to "U2" to "Gimme the Mermaid", here's 27 years of the group's "greatest hits" turned into all-new moving pictures. A collaborative project with filmmakers from all over the country, Negativland's sound explorations merge with a darkly cracked look at 21st century America. Paranoia, torture, control, power, weapons, fear, suicide, cola wars, mental illness, and intellectual property issues live side-by-side with the lighter side of dopey advertising, cartoon characters, cleaning products and Jesus. This Sunday morning, let the SeeLand empire be your church.
---
I NEED THAT RECORD
Premiere! Director Brendan Toller in person!
The death (or possible survival) of the independent record store is debated in Brendan Toller's indie documentary. Greedy record labels, media consolidation, homogenized radio, big box stores, Ecommerce, shoddy "stars" pushed by big money, and the digital revolution all pose threats on the very well being of our favorite record stores. Will these stores die? Will they survive? I Need That Record interviews with Thurston Moore, Ian Mackaye, Noam Chomsky, Mike Watt, and a slew of record collectors and music fans from around the country to find out.
---
ADJUST YOUR COLOR: THE TRUTH OF PETEY GREENE
Producer (and Petey's nephew) Terrence Greene in person!
Here is the unlikely story of America's first shock-jock, Petey Greene. A black man in a white man's world, Greene overcame poverty, drug addiction and prison-time to "tell it like it is". shocking and entertaining everyone from the ghetto to the White House. During an era of civil unrest in our nation's capital, Petey used taboo words and ideas, forcing people to confront their own prejudices on his raw, uncensored TV and radio shows. His explosive language and brash style made Petey a legend. If you saw last year's excellent film "Talk To Me" (with Don Cheadle), then you know a bit about Petey...but that was just the tip of the iceberg.
---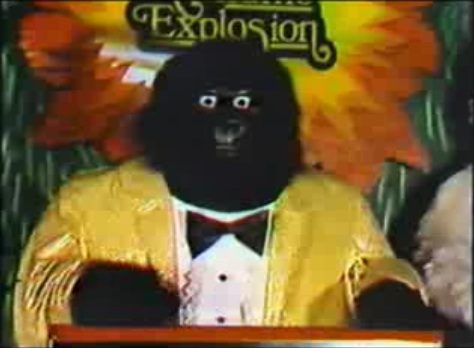 ROCK-AFIRE EXPLOSION
Premiere!
plus short films from UNCLE MONSTERFACE
Aaron Fletcher is the mad genius behind Showbiz Pizza Place's animatronic rock spectacle The Rock-Afire Explosion. Chris Thrash is the determined fan who failed to let that childhood memory die. They are part of a growing cult of grown men obsessed with the original Rock-Afire Explosion.
I wrote a bit about the Rock-Afire Explosion film on this very blog in July: check out the trailer here.
Before the animatronics, we have a pair of video shorts from Boston's punk puppets Uncle Monsterface.
---
YOU THINK YOU REALLY KNOW ME: THE GARY WILSON STORY
A long time favorite of obsessive record collectors, Gary Wilson's album "You Think You Really Know Me" is one of the most esoteric and personal albums of the 1970s. But who is he, and why did he all but vanish after the album's release? This documentary takes a look at an artist well ahead of his time.
"Indie-rock enthusiasts will find much to appreciate. Gary Wilson and the Blind Dates, as his band was known, do for used-record stores what R. Crumb and Harvey Pekar do for used comic-book stores." - The New York Times