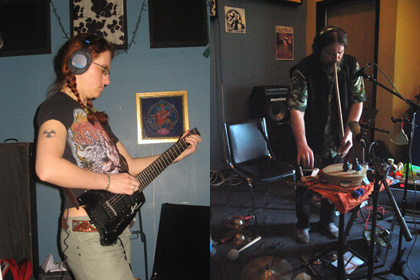 (Reposting this with links that work)
Indeed hailing from Poland's plot of the Carpathian mountain range, The Magic Carpathians Project ("Projekt Karpaty Magiczne", to wy i ja) first announced themselves to a U.S. audience in March 2001, with a stunning and absolutely captivating performance on my radio show. The project of two artists, multi-instrumentalist / vocal shapeshifter Anna Nacher, and multi-instrumentalist / sound-sculptor Marek Styczyński (formerly of enviro-politico psych legends ATMAN), on this date they were joined by bassist Tomasz Radziuk and percussionist Jan Kubek.  Irene Trudel and Chris Stubbs engineered.
Tracks: One Mother  ||  The Magic Carpathians  ||  Mountains Above Clouds  ||  Ragana's Story  ||  Lullaby For Rainbow Warrior  ||  Bluff  ||  Dance  ||  Under a Northern Sky  ||  Vydunas
THE MAGIC CARPATHIANS PROJECT artist page on the Free Music Archive is here, along with the entire radio session available to listen or download.
Magic Carpathians Project on Beware of the Blog 3 years ago, with video, here
Magic Carpathians Project perform live on Rich Hazelton's WFMU show in 2006 here