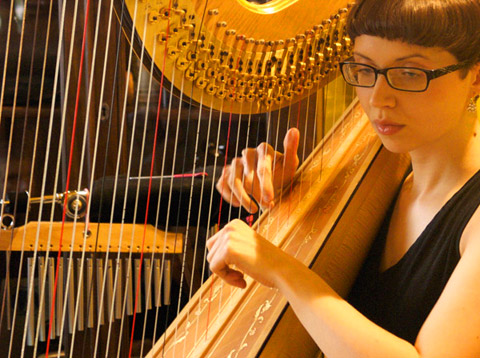 Daniel Blumin writes: Spring has finally sprung. Phil Spector has gotten his comeuppance. But something's still missing, eh? If that something is "Branches", the exclusive electronics & harp improvisation by To Rococo Rot member Robert Lippok and Italian harpist Beatrice Martini, recorded for Daniel Blumin's WFMU radio program, not to worry. It can be downloaded from the Free Music Archive and also right here:
Robert Lippok & Beatrice Martini - "Branches" (mp3)
For an email Q & A with Lippok and Martini about the hauntingly dreamlike piece, the new to rococo rot album, future projects, and life in East Germany, read on! Happy Springin'!
 D. Blumin: How did you two meet and decide to collaborate on Branches?

Beatrice
We met in August 2007 in Berlin, after some nice e-mail conversations. We walked around Mitte, talked a lot, found a 3D postcard of the Palast der Republik and planned to collaborate in the near future. Some months later, in May, we played together at the Brighton Festival. We called our performance Cut up and we used the monumental organ of the Brighton Dome, electronics, harp and percussion.
Last summer I moved to Berlin and while I was looking for a flat, Robert invited me to create a piece for the radio. I always found radio (and its history and technical/social developments) terrifically interesting and I like a lot playing together, so I immediately said yes! And then I found a nice flat that we used to record the piece.


D. Blumin: How much did you discuss ahead of time? Was everything improvised? Were certain sound sources, such as the crows, recorded for the purpose of this piece?

Beatrice
We didn't discuss, we just played, chatted, laughed and had cups of Christmas tea. We played improvising on some musical patterns that we created for the Brighton performance as well as on new sounds and experiments.

Robert
The first crow recording I used was by the Japanese artist Takehito Koganezewa for my Open Close Open EP on Raster Noton in 2001. I always loved these birds and the sound they make. In 2008 my friend and colleague Debashis Sinha was visiting his family in Calcutta. He told me that his aunt fed crows on her balcony and gave them individual names. I asked him to record them. Apparently they stayed quiet on that day. Later on he made a very nice recording including somebody singing on the street. When we recorded Branches we thought that the sound of the crows would fit really well within the piece.
 
D. Blumin: How much post-production was involved?

Robert
We did a few edits here and there. Not very many. We liked the recorded versions already so there was no need to re-design the whole thing.
 
D. Blumin: When you compose individually, do you generally follow the same approach as you did for Branches?

Beatrice
Every time is a little bit different. Basically, I have an idea (it can be a sound, a gesture, a body movement, an image) and I start developing it, using sounds as well as texts or sketches. Then I make some experiments, I record them and listen to the recordings to decide what I want to choose, why/if I want exactly those sounds and how I want to perform them. Not in this particular order every time.

Robert
Working with Beatrice is nice and quick.
I work very long on my solo stuff. It changes its face a bit every day and sometimes I think I should rather do software than a finished project like a CD.
I'm still working on the music during the mastering or even later if possible.

D. Blumin: What are some projects on the horizon for you both? Beatrice, any recordings planned?

Beatrice
I just came back from Düsseldorf where I created the soundworks for a choreography premiered at the Kammerspiele. For the occasion, a limited edition ep (Elbows as commas) was released by the label This Is It, Forever. I absolutely love collaborating with contemporary dancers and choreographers. Now I'm working on the release (for two labels, This Is It, Forever and Boring Machines) of my first solo album where I perform three 20th century compositions by Raymond Murray Schafer (The Crown of Ariadne, where I play harp and percussion at the same time), Bernard Andrès and Henriette Renié. On my to-do-list for the next few weeks there are some new recordings/editing projects with astonishingly great experimental musicians (from Portland to Berlin, but I can't say more), research for two new contemporary dance pieces and a collection of sketches and ideas for a new solo sound performance. Then, maybe I can also say that together with Robert we recorded some harp parts for his new solo album. But obviously he's the right person to say more about it!

Robert 
I just finished a sound installation in Caracas, Venezuela.
I´m very happy to say that the new to rococo rot record is almost ready. We just finished the mix. Whitetree is the new trio I´m involved in. It's Ludovico Einaudi, Ronald Lippok and myself. Our first release is called Cloudland and should hit the streets of New York very soon. It looks like we will play some US shows in early June. Also in June I have been invited by the Luminat Film Festival Toronto to perform a soundtrack for the silent movie Tales of the Uncanny. And yes, I am doing work on my solo record for Raster Noton, which will include some lovely harp parts by Beatrice.
 
D. Blumin: Robert, can you tell me something about the forthcoming to rococo rot record? Was it all recorded at Faust's studio?

Robert
Last year we got invited by Jochen Irmler from Faust to record something in his studio in the nice little town of Scheer. We also did some improvisations with him which turned out really well. In November 2008 we did a short UK tour. We had the idea to play only new tracks. We hired a rehearsal space and invented a whole new set in four days. In January we went back to the Faust studio and recorded the new album. We played all tracks live in one room with just a few overdubs. I just came back from Duesseldorf where we were mixing the material. Also not much post production. The set up was very basic, a computer, a small mixer, a tube spring reverb and a tape delay.

D. Blumin: It's been almost 5 years since Hotel Morgen, the last to rococo rot record. There are many other projects everyone in the band is involved in (Tarwater, Mapstation, etc.) - how does that affect to rococo rot?

Robert
Yes it's true there are many things going on besides to rococo rot. From my point of view it is good for the band. When we come together, it's fresh and new. We have a strong sense of the "to rococo rot universe" regarding sound and structure. But ideas from other projects influence our music too. Some of the basic tracks for the new album I made for my Raster Noton record. Sounds are sometimes like little creatures, finding their own way into the tracks.

D. Blumin:  Robert, could you talk about the cultural environment in East Germany when you were growing up? What kind of stuff were you listening to? Were you making music when you lived in East Berlin?

Robert
East Berlin? So long ago. It was pretty difficult to get interesting records. Friends had to smuggle them or we had to get them in Hungary. A big influence was the John Peel Radio Show broadcast on the British soldier program BFBS. We did not miss one. The GDR [East German] tape machine was always ready to record new musical horizons such as The Flying Lizards, Human League, DAF, Throbbing Gristle. Later in the Eighties I was into House and Acid. But again it was big trouble getting records. Life in the GDR was very different. We couldn´t travel nearly anywhere. Just to other Socialist countries and not even to all of those. My brother Ronald and I formed a band called Ornament und Verbrechen (Ornament and Crime) after a text by the architect Adolf Loos. To play in a club you needed an official paper. You had to play in front of a commission who decided if you were worth [giving permission] to perform in front of a public. We thought this was bullshit and never tried to get one. The consequences were that we were strictly underground. We could just play in private places, flats, churches. There was always a big interest in that scene by the East German secret police. Often the parties were stopped by the police. Everybody had to show their passports. Some of our friends had to go to jail. I was questioned by the secret police and got banned from visiting the inner city around Alexanderplatz. Can you believe it? I remember that in Jena [a city in East Germany] the government decided to build a wall inside a yard where we used to make concerts and parties to make the space unusable for us. Well, they loved to build walls…  On the other hand, I was a teenager and it was fun to do all this illegal stuff: printing posters, making art magazines, organizing events. We were the knights and the government was the evil dragon. A lot of policemen looked like very evil dragons.

D. Blumin:  How about your background, Beatrice? What were you listening to growing up?

Beatrice
Even when I was a child I always mixed quite different musical interests. I really liked listening to Queen as well as going to the opera (especially to really long masterpieces, like Richard Wagner's) and watching the first pop music videos shown on the Italian TV. Then, while I was going on with my harp studies, I started being interested in punk rock and d.i.y. culture. I went to gigs and festivals, made three issues of a fanzine, and met some of my long-time friends and, extremely important, my Love. Going on with my (academic as well as personal) studies, I discovered 20th century music. And it was a stunning revelation for me. I started listening to a lot of contemporary classical music and searching for new compositions for harp, and during the same years I began being really interested in electronics and then experimental and noise music. And actually, this is what it is like today.

D. Blumin: Beatrice, why did you relocate to Berlin? Is there a music scene in Florence, your native city?

Beatrice
No, I can't say that in Florence there's a scene. In general, there is a wide lack of contemporary arts and this is one of the most important aspects that I had in mind when I decided to move to Berlin. I fell in love with Berlin some years ago, just reading and listening to stories about it, and when I visited it for the first time I immediately felt myself at home. In the meantime, I started working on projects in Germany (in Dresden, creating music for/ performing in contemporary dance pieces) and when I graduated (in Harp Solo Performance) in June 2008 I decided to move. And after these first months of furniture-painting, recordings, language-learning, theatre rehearsals and thousands of exciting discoveries I'm totally happy about this decision.

D. Blumin:  Beatrice, can you talk about the impact studying the harp since the age of 4 has had on you? Have you needed to "unlearn" anything?
Beatrice
For me, it was great having the opportunity to play such a great (and enormous, especially when I was 4) instrument from that early age. I played it for almost my entire life and it's like a part of me, like a piece of the body I was born with.
I never needed to unlearn anything (even better, every second I want to learn more!). I had really nice teachers, amazing harpists as well as brilliant performers, and everything I learned from them is always useful for me, in every different project I'm working on.
 
D. Blumin:  Time for a few lists! Who would be a dream collaborator (alive or dead)?

Beatrice
Charlotte Moorman. She was stunning. Every time I discover one of her performances/ recordings/ videos/ interviews/everything that I didn't know before, I'm always amazed.

Robert
Niki De Saint Phalle / Mike Kelley

D. Blumin:  What are you listening to these days?

Beatrice
Bastion – Bastion (Interregnum)
John Cage – Sixty-Two Mesostics Re Merce Cunningham, performed by Eberhard Blum (Hat Hut)
Hood – Cold House (Domino)
Brasil Brasil: The Tropicalia Revolution, documentary (BBC Four)

Robert:
Beckett and Taylor - Lets Smash Up Our Love
Cliff Martinez - Solaris Soundtrack
Mychael Danna - The Ice Storm Soundtrack
Phoenix - Alphabetical

D. Blumin: Ok, that's a wrap. Many thanks again for the opportunity to broadcast Branches and for taking the time to do the interview! Looking forward to the new releases!

For more info on forthcoming releases:
www.myspace.com/torococorot
www.myspace.com/robertlippok
www.myspace.com/beatricemartini
www.batricemartini.it
photo of Robert Lippok at the Tenori-On Launch Exhibition, Manchester UK 2007 CC by-nc-nd 2.0 McQ (via flickr)
Beatrice Martini pic by Claudio Ronchi via beatricemartini.it