Fresh off appearances at Montreal's Mutek and the 2011 WFMU+FMA SXSW Showcase, Sun Araw took a first-ever trip to the WFMU studios for a live session that aired yesterday on Talk's Cheap.
Originally envisioned as a solo project from Magic Lanterns' Cameron Stallones (also ex-Pocahaunted), Sun Araw has evolved into a full band live performance experience alongside a flood of releases from labels like Not Not Fun, Woodsist, Leaving Records, and Araw's own Sun Ark.
The Sun Araw band features Cameron Stallones on guitar/synth/vocals, backed by two equally awesome players: Barrett Avner (also of Sadistic Candle) on the Shahi Baaja (pictured at left) & Monotron, and Alex Gray (Deep Magic / Deep Tapes) on extra guitar + MPC.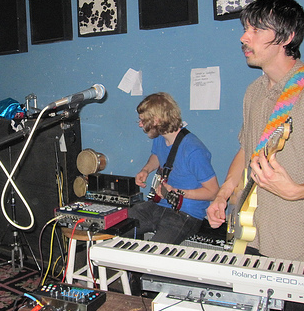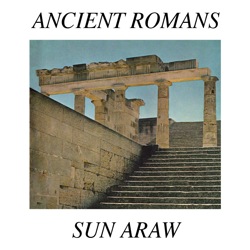 The session commenced with a 30+ minute improv to get in the zone for one new song, and one old song. The studio version of "Crown Shell" will be available on Ancient Romans, the forthcoming Sun Araw 2xLP due out on Sun Ark via Drag City August 23rd 2011. Ancient Romans will be Sun Araw's fifth full-length in three years, and "Crown Shell" provides a staggered, spacious, aquatic, and deeply hypnotic glimpse at what's to come. The band closed out with "Hive Burner," a psych-rock comet that originally appeared on Sun Araw's 2008 debut, The Phynx.
Sun Araw's WFMU session was rec'd on June 7th and aired on June 9th [playlist for Talk's Cheap/WFMU, June 9th 2011]. If you like what you hear, dig deeper into the Sun Araw universe here on the FMA and at sunaraw.com.