Don't miss out on the best record shopping weekend of the year! Luxuriate in the presence of hundreds of thousands of records and CDs, great films and live music, plus tons of live WFMU broadcasts!
WFMU Record Fair
Oct 28th - 30th (Fri - Sun)
Metropolitan Pavilion
125 W. 18th St, Manhattan

Early admission ($25): Fri 4-7pm (includes unlimited re-entry all weekend)
Regular admission ($7): Fri 7-10pm, Sat/Sun 10am-7pm

Bring in your Record Fair postcard or this coupon for $2 off admission!

Live Music:
- Prince Rama: Sat, 12:45pm
- Sediment Club: Sat, 3:30pm
- Black Hollies: Sat 4:30pm
- CSC Funk Band: Sun, 1pm
- John Fahey tribute w/ Glenn Jones, Charlie Schmidt, and Ragtime Ralph: Sun, 3pm
Live WFMU Broadcasts from the Record Fair include Miniature Minotaurs with Kurt Gottschalk (Fri 3-6pm), Downtown Soulville with Mr. Fine Wine (Fri 8-9pm), Michael Shelley (Sat 11am-1pm), Fool's Paradise with Rex (Sat 1-3pm), The Cherry Blossom Clinic with Terre T (Sat 3-6pm), and Gaylord Fields (Sun 5-7pm).

Plus, amusements and the Home-Spun Merry-Go-Round! Full event schedule here. Download a copy of the Record Fair Dealer Guide, Performance Schedule, and Broadcast Schedule right here.
Upstairs from the Record Fair this year will be WFMU's first-ever RadioVision Festival, celebrating radio's future in the digital age.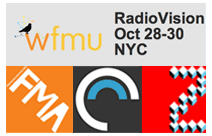 WFMU's RadioVision Festival
Oct 28th - 30th (Fri - Sun)
Metropolitan Pavilion
123 W. 18th St (one door down from Record Fair entrance)

Joe Frank's performance on Friday is sold out, but there are still tickets available for Symposium Saturday and Hack Day Sunday.

On Saturday, Oct 29th our symposium will feature Ira Glass (This American Life), Tom Scharpling (The Best Show on WFMU), Marc Maron (WTF podcast), Vicki Bennett, DJ/Rupture, and more! Sunday Oct 30th is a hack day hosted by the Free Music Archive, the Echo Nest, and Zeega, who invite hackers, musicians, digital storytellers and DIY media-makers to devote a day to reinvent radio using images, social media, and open archive materials.

RadioVision info/tickets here. Be there!