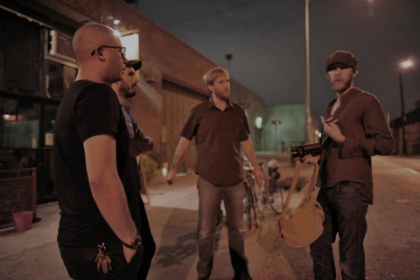 For this month's Revitalize Music Contest, artists from Lisbon to Austin dug through public domain songs, got inspired, and submitted their creations to our contest repository. Our talented judges from the music, radio, and public domain worlds loved hearing the wide range of incredible entries, but eventually had to select a winning song.
OUR WINNER IS CROWN THE INVISIBLE
Crown the Invisible created an incredible power pop rendition of the 1911 revenge anthem "The Spaniard That Blighted My Life" by Billy Merson. The song tells the story of a man whose girl is charmed away by a Spanish bullfighter.
'Twas at the bull fight where we met him
We'd been watching his daring display
And while I went out for some nuts and a programme
The dirty dog stole her away
The winning band's been around for about a year, and are a blend between a studio compositional project and a raucous psychedelic act. They are all young, grizzled rock dudes who live and work in East Williamsburg warehouses, where they've been cultivating their space/stoner rock sound. They describe their band as "if Rick Wakeman played with Ride, but the songs were written by The Pretty Things while they watched Planet of the Apes and listened to Hawkwind." That is to say, they all grew up on early '90s and '60s British stuff.
Continue reading "New Version of 1911's Revenge Anthem, "The Spaniard Who Blighted My Life" Winner of Free Music Archive's Latest Contest " »